Thread Rating:
My nemesis: the COOLER MASTER Hyper 212 Plus
12-02-2010, 07:25 PM,
(This post was last modified: 12-02-2010, 07:45 PM by zanthal.)
zanthal
Member


Posts: 76
Threads: 14
Joined: Nov 2010
Reputation: 0
My nemesis: the COOLER MASTER Hyper 212 Plus
Alright so right on time three days later UPS has gotten me all my parts (champion service for the $7)
and I'm in the middle of the assembly, following the instructions in the case manual and the tips from some of the knowledgeable ones here on the HR forum.
I've been taking my time and so far I'm haven't been daunted by anything, until I unpacked this infernal COOLER MASTER Hyper 212 Plus (which I don't doubt is an awesome cooling unit).
The instructions for mounting it are extremely short, and the diagrams you're to follow are very tiny and have left me head-scratching.
I've removed the heatsink mounting hardware that was pre-installed on my motherboard already. And I believe I understand how to install the under-motherboard mounting plate.
But there is an adjustable "prop" mount, I'm calling it, that holds the heat pipes and heat transfer perpendicular to the motherboard. I'm stuck on how to attach that prop mount to the rest of the cooler.
I'm going to follow up with some pictures.
---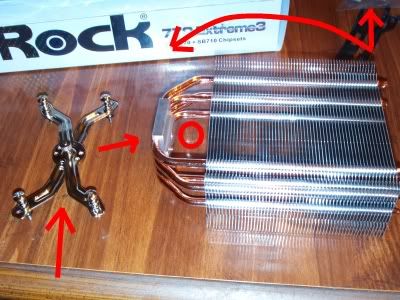 Okay the heat dissipating part on the right will tip up and stand on it's end, make contact with the CPU, and be supported by the "prop" mount on the left.
I don't see a reliable way to attach the two, though, and the instructions are less than clear by a long shot.
Help
My new PC

=

CPU:

AMD Athlon II X3 450 Rana 3.2GHz Socket AM3 |

Motherboard:

ASRock 770 EXTREME3 AM3 AMD SATA 6Gb/s USB 3.0 ATX |

Cooling:

COOLER MASTER Hyper 212 Plus |

RAM:

G.SKILL Ripjaws Series 4x2GB 240-Pin DDR3 SDRAM 1600 |

Video:

ASUS GeForce GTX 460 768MB 192-bit GDDR5 |

Case:

Rosewill DESTROYER ATX Mid Tower |

Power:

Antec TruePower 650W ATX12V V2.3 80 PLUS BRONZE Cert |

Storage:

SAMSUNG 320GB 7200 RPM SATA 3.0Gb/s 3.5" HD |

Optical drive:

Sony Optiarc CD/DVD Burner Black SATA Model
12-02-2010, 07:53 PM,
Perrywinkle
The D3al Finder


Posts: 116
Threads: 26
Joined: Nov 2010
Reputation: 5
RE: My nemesis: the COOLER MASTER Hyper 212 Plus
12-02-2010, 08:02 PM,
(This post was last modified: 12-02-2010, 08:06 PM by zanthal.)
zanthal
Member


Posts: 76
Threads: 14
Joined: Nov 2010
Reputation: 0
RE: My nemesis: the COOLER MASTER Hyper 212 Plus
!

Thanks

That was exactly what I needed to see for it to make sense.

+1
My new PC

=

CPU:

AMD Athlon II X3 450 Rana 3.2GHz Socket AM3 |

Motherboard:

ASRock 770 EXTREME3 AM3 AMD SATA 6Gb/s USB 3.0 ATX |

Cooling:

COOLER MASTER Hyper 212 Plus |

RAM:

G.SKILL Ripjaws Series 4x2GB 240-Pin DDR3 SDRAM 1600 |

Video:

ASUS GeForce GTX 460 768MB 192-bit GDDR5 |

Case:

Rosewill DESTROYER ATX Mid Tower |

Power:

Antec TruePower 650W ATX12V V2.3 80 PLUS BRONZE Cert |

Storage:

SAMSUNG 320GB 7200 RPM SATA 3.0Gb/s 3.5" HD |

Optical drive:

Sony Optiarc CD/DVD Burner Black SATA Model
Users browsing this thread: 1 Guest(s)