Thread Rating:
Hybrid Gaming/Workstation Build
10-24-2011, 10:22 AM,
MiamiModz
Junior Member


Posts: 5
Threads: 2
Joined: Oct 2011
Reputation: 0
Hybrid Gaming/Workstation Build
Hello everybody!
This is a build I did for my cousin. I based it on the v2.5, tier 0.75 budget gaming build with some minor modifications.
Parts List:
NZXT GAMMA Classic Series ATX Mid Tower Chassis
AMD Athlon II X4 640 Propus 3.0GHz
GIGABYTE GA-78LMT-S2P AM3+ Motherboard
Kingston ValueRAM 4GB (2 x 2GB) DDR3 SDRAM 1333 (PC3 10600)
Western Digital Caviar Blue 500 GB SATA III 7200 RPM Hard Drive
ASUS 24X DVD Burner
SilverStone Strider 500W Power Supply
GIGABYTE GeForce GTX 260 896MB
Cooler Master 120mm Blue LED Fan
Windows XP Pro (32bit)
I swapped the recommended CPU with the one recommended for the workstation build because this computer was intended to be used for some light CAD/CAM work and I've read that these programs benefit from more cores and this one had 4 as opposed to the recommended one which had 3, I believe. I also went with Win XP because all the programs they are using are from circa 2008-2009, so I felt that they would probably run better in a native Win XP environment.
I also changed the memory because the recommended one was sold out at the time I was ordering.
Finally, I added the fan for the extra cooling and the pretty, pretty lights.
So, on with the pictures!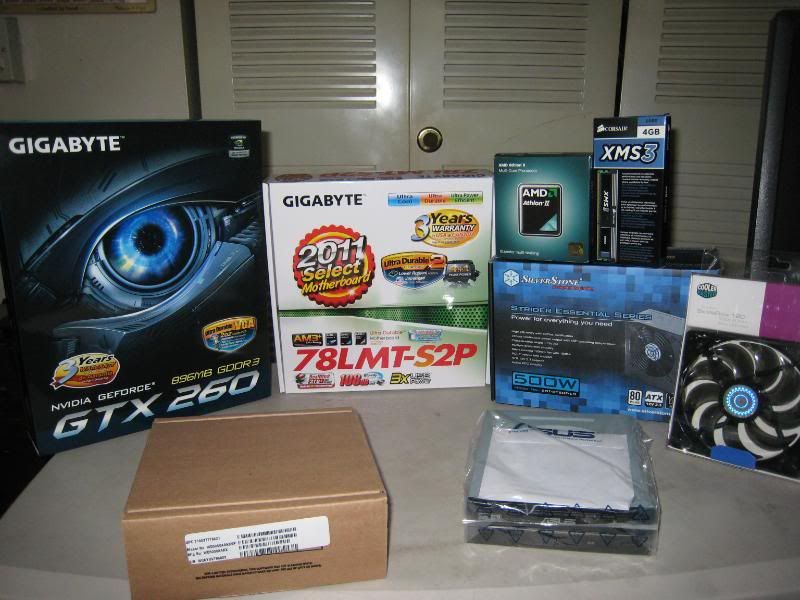 I did'nt include the case box because it would'nt fit on the table and it was just a cardboard box, really. Also, the memory in the picture is not the one I used. The memory that was sent was not what I had ordered.
(had 1 x 4 gig stick instead of 2 x 2 gig sticks)
Fan is in, note that this case comes with special screws to mount the fan. Note the dust filters on the drive bays and right below them is another filter that might be a bit of a challenge to clean. Also on the bottom of the case underneath the PSU is another removable filter.
Everything in except the Video card. Note the lovely bird's nest I have in the bottom drive bays.
Now with the video card!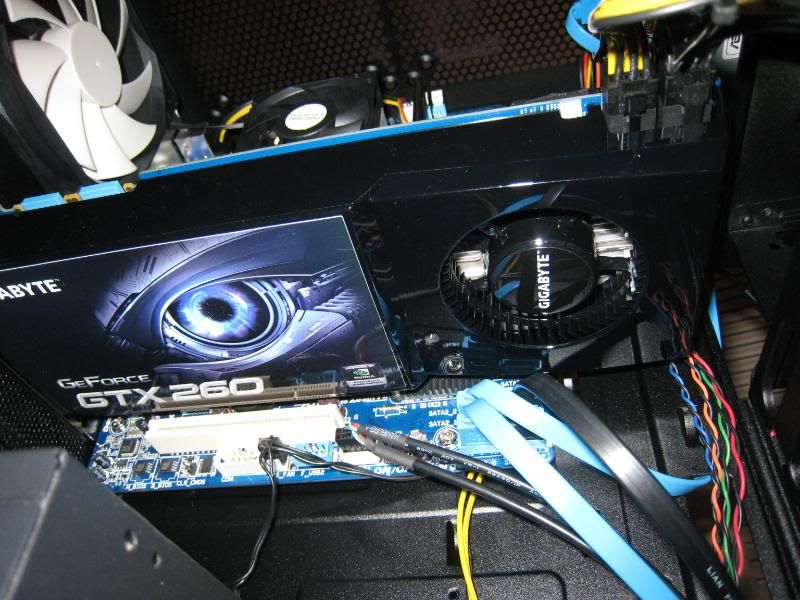 Better view of this bad boy.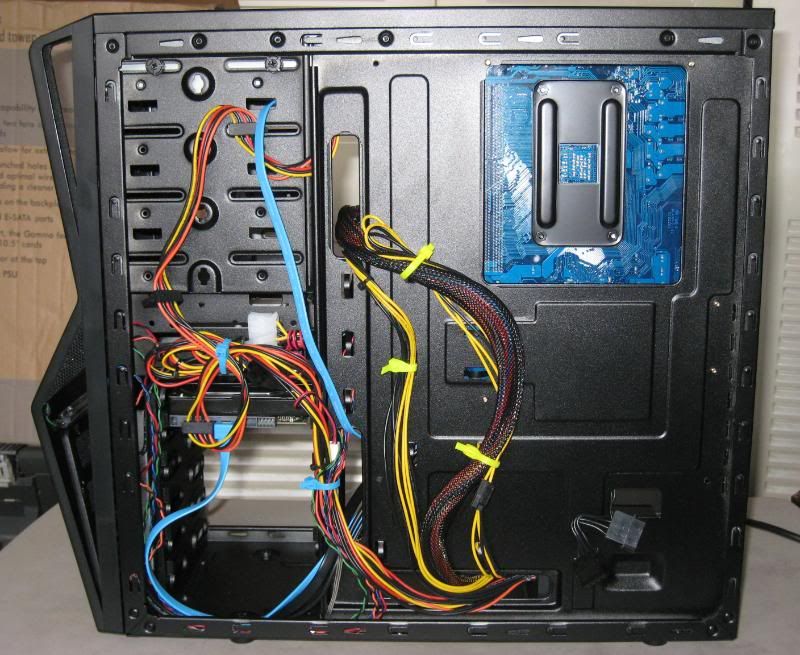 Cable management.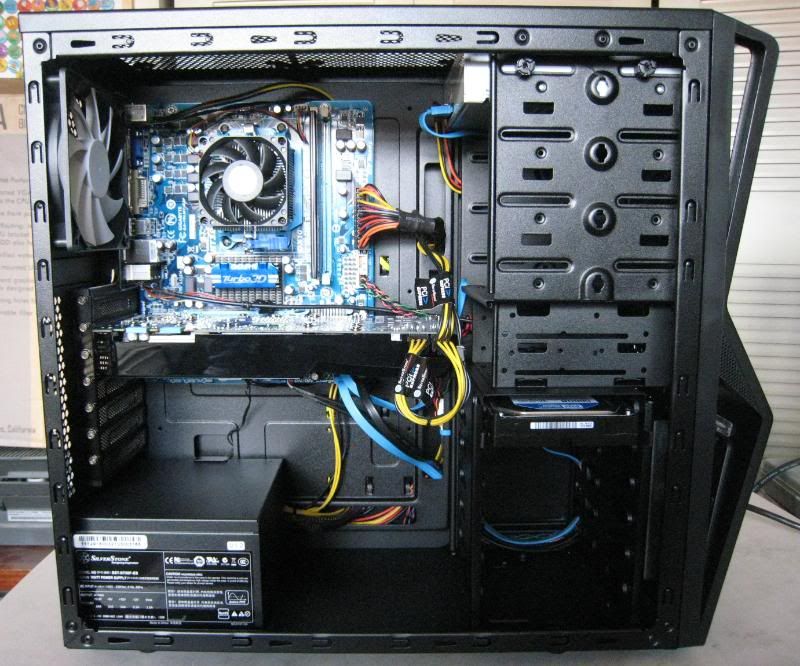 This computer like Obi Wan's failure, is now complete!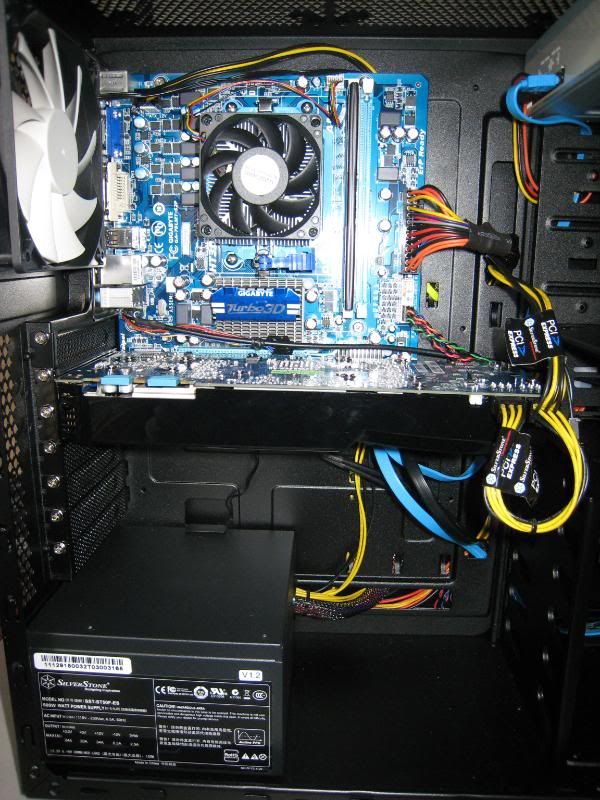 Close-up view. Again note that while there is only 1 stick of ram the finished build did have 2 sticks. Which you need to enable dual channel memory. I used this stick so I could finish assembly and software installation while I waited for the replacement to arrive.
Another view where you can see the Asus drive.
I have to admit I was pretty impressed with this case. For such an inexpensive case it is packed with features!
Now not to nitpick, but there are a few things that I think could have been done better by the manufacturers.
1. Drill a hole for the 4-pin power cable in the area right above the motherboard.
2. Give just a little bit more room behind the motherboard tray for the cables. I kinda had to squeeze down on the case to get it closed.
3. What is up with Gigabyte putting the front panel audio header right behind the audio outputs? They do this even on their higher priced boards. What happens is that you have this cable either resting on a chipset heat-sink or on top of the video card. Talk about rock and a hard place! Had to tie-wrap it at the end to keep it taut and not touching anything, but this is a less than ideal solution.
Again, nothing major, just a bit annoying.
In the end, the only thing I would have liked to have done, would have been to sleeve some of the cables. But hey, that's what next time is for.
Well I hoped Y'all enjoyed the show. I have more pics showing the entire build step by step but I did'nt want to clog up this post with a ton of pictures. I will have have the entire gallery up on a small web site I'm building, so if anyone is interested in seeing the rest of the pics let me know and I'll post the link when I'm done building the site.
Wanna give a big shout out to Mathieu for his most excellent builds and great service he has done for beginning pc builders.
Thanks!
10-24-2011, 07:44 PM,
MiamiModz
Junior Member


Posts: 5
Threads: 2
Joined: Oct 2011
Reputation: 0
RE: Hybrid Gaming/Workstation Build
Thank you! High praise indeed.
Yea, I put the captions because I figured that way other people who are just starting out can see how other people put their rigs together and learn from their experience and/or mistakes.
And not just beginners, while I have built some computers before, almost 15 years had passed since I had last built a computer. So this site was heaven sent, it was my crash course in getting up to date on the new parts and such.
So just want to say thanks again to all of you for a great site.
Oh, and one other tip I forgot to put in the OP.
When you take your power supply out of the box, check to see whether the switch is on or off.
I spent half an hour trying to figure out why the computer was not starting up. Only to realize that the PSU's switch had been left in the on position, so what I was doing was turning it OFF before I was hitting the power switch on the computer.
10-24-2011, 08:41 PM,
ApexBoost
Culmination Breakthrough


Posts: 372
Threads: 41
Joined: Jun 2011
Reputation: 3
RE: Hybrid Gaming/Workstation Build
Nice job and very nice write up, congrats on the build!
Follow Me on
Twitter
CPU:
Intel i5 2500k
Motherboard:
ASRock Extreme 3 Gen 3 Z68
Video Card:
Sapphire Radeon 6870
Memory:
Corsair Vengeance 8gb
Power Supply:
Rosewill Hive 550w
Storage:
Seagate Barracuda 1TB
Case:
Antec 300 Illusion
Monitor:
ASUS 23" 5ms 1080p
Mouse:
Logitech G500
10-24-2011, 09:16 PM,
MiamiModz
Junior Member


Posts: 5
Threads: 2
Joined: Oct 2011
Reputation: 0
RE: Hybrid Gaming/Workstation Build
Thanks!
10-24-2011, 09:30 PM,
MathieuB
Founder / Editor of Hardware Revolution


Posts: 3,192
Threads: 335
Joined: Nov 2010
Reputation: 77
RE: Hybrid Gaming/Workstation Build
Nicely done, thanks for sharing those pictures with us. Great choice on the CPU, considering your needs.

While XP is a great OS, you're most likely running the 32-bit version, which limits your PC to a total of 4GB of addressable memory. With the video card alone taking 896MB, plus various caches (CPU, HDD, etc.), you're left with about 3GB of usable RAM, out of the 4GB that your PC is equipped with. Not a huge deal, but still something to be aware of. If you ever upgrade to 8GB or more, make sure to get a 64-bit OS.
Laptop: MSI GS30 Shadow-045
Dimensions:
12.6" x 8.9" x 0.8" 2.65lbs
CPU:
Intel Core i7-4870HQ Quad-Core + Hyper-Threading OC 2.5-3.9GHz
RAM:
16GB DDR3 1600MHz
Video Card:
Intel Iris Pro 5200
Storage:
2x128GB SDD RAID0
Audio:
ASUS Xonar U3 USB Sound Card + Audio-Technica ATH-M50 headphones
Screen:
13.3" - 1920 x 1080 IPS + 27" Dell P2715Q IPS 3840 x 2160
Keyboard:
Filco Majestouch MX Cherry Blue
Mouse:
Logitech MX518
Users browsing this thread: 1 Guest(s)