---
First PC build - 2500k - SirJono - 10-14-2011

Hi guys, after shopping around and doing some research I finally pulled the trigger on my build. I'm very happy with how it's performed, it's definitely doing a lot better than I thought considering what I paid for it. I've had notebooks for the last 5+ years, the newest being a 2009 Macbook pro (which is great, but not for gaming)

Case Antec 300 $49.95
Power Supply 700W OCZ $79.99
Wireless adaptor Rosewill PCI $24.99
RAM 8 GB Corsair $49.99
CPU Intel 2500K $219.99
Motherboard Biostar TZ68A+ $99.99
Hard drive Samsung spinpoint 1TB $59.99
Video Card Sapphire 6870 $174.99

Total cost: $759.88. I got some rebates, and assuming they all come through the brings the cost to $684.88.

Upgrades I'd like to add:
Optical drive (a blu-ray burner, but really no rush for it)
SSD
Cooling Fan (to overclock)
Video Card (i'd like to crossfire either another 6870 or a 6850)
5.1 Speakers

I have this hooked up to a 23 inch Samsung P2370HD and gaming on it is amazing. It runs BF3 beta really well, although using up to 70% of the unclocked CPU. The Witcher2 and Crysis run great.
---
Here's some pictures of assembly. RAM hadn't arrived yet and that's why it's missing. This was my first build and it was a lot of fun.
I watched a video online that said it would take 20 minutes, it took me a little over an hour to do this (and then about 10 minutes troubleshooting because I didn't plug in the 8pin power CPU power cable). It was a lot of fun and I will definitely be building my next build (hopefully not for 3 years).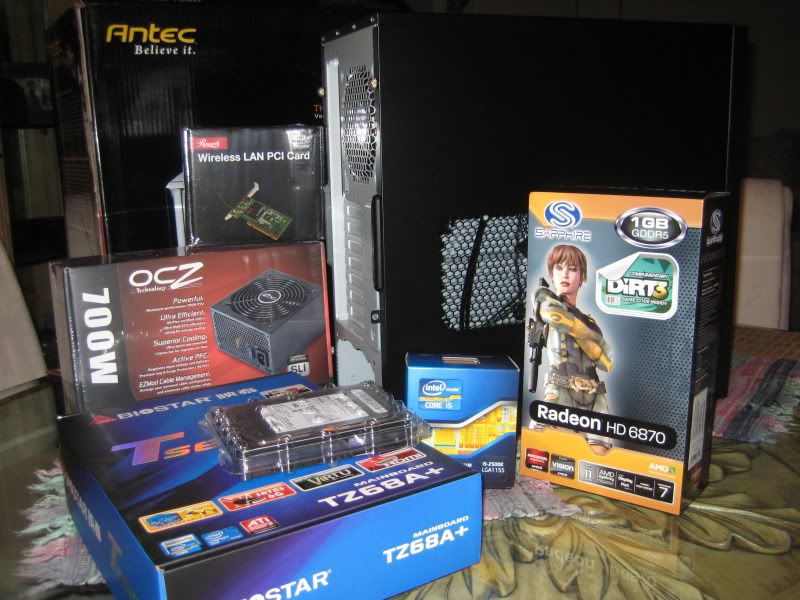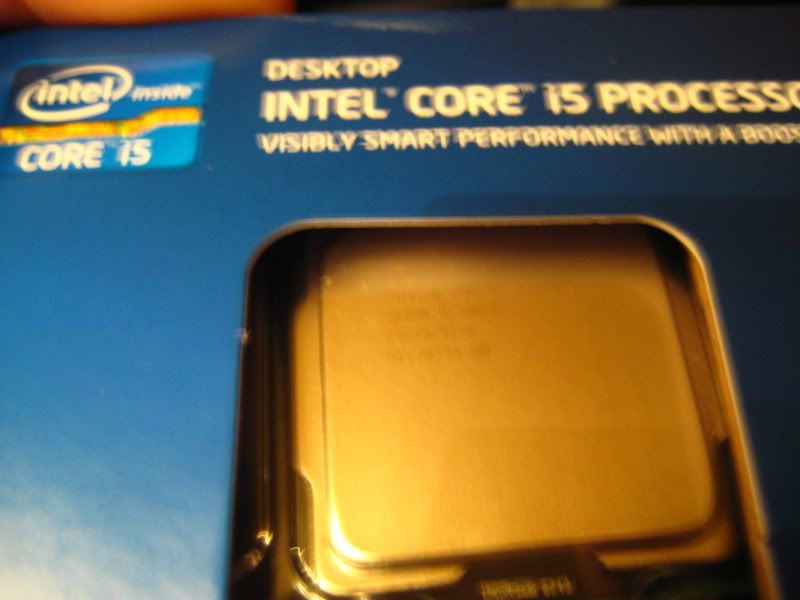 ---
RE: First PC build - 2500k - MathieuB - 10-23-2011

Not sure if you did it after taking the pictures, but that video card needs another PCI-E 6-pin power connector to be plugged in it
---
RE: First PC build - 2500k - SirJono - 10-23-2011

Haha, yea when the pictures were taken, need another PCI-E and the 8-pin CPU power (at the top). Live and learn!


---
RE: First PC build - 2500k - Phrosty - 10-23-2011

I always love seeing the pile of goodies just sitting there
. Looks nice
---
RE: First PC build - 2500k - buff nerd - 11-06-2011

Great pc but the stock heat sink could use a upgrade to a hyper 212+ evo
. I was running stock on my i7920 and when I got the hyper 212+ noticeably I am seeing a huge difference
---